Posted by BAS | Aircraft Salvage Experts on 9th Dec 2022
Airplane Parts Scams Are Alive on Facebook
Lately, our team here at BAS is seeing a broad range of scams related to selling airplane parts from identity theft and impersonation to straight up fraud. It's estimated that in 2022, $41 billion dollars globally will be lost to online payment fraud ( link). This link also provides some interesting fraud and scam statistics. The bottom line is that the trend is growing, it's getting harder to identify and stop the scammers, and the amount of damage they're doing is getting out of hand, costing the worldwide economy over $5 Trillion annually.
Don't get caught. Arm yourself with the information you need to see the red flags and stop the scammer in his tracks .
The aviation community on Facebook is quite large. And this large audience presents ripe opportunities for scam artist. We are seeing a rise in scams where the scammer poses as an agent of a real business and offers to sell parts at great prices through a Facebook transaction with payments requested through an app like Venmo or CashApp. They want the money sent straight through the app, not processed through an actual checkout system. This is a red flag.
We have also seen some scams that request wire transfers. To execute a wire transfer, the receiving bank account must be legitimate. Have you tried to open a legitimate U.S. bank account lately? You need to take everything but the kitchen sink with you when you go, maybe a DNA sample too. These scams are easier to chase down. The police can get involved. The bank has protections against this. You may or may not get your money back, but at least there is a trail to follow.
The deeper problems arise when a customer sends money directly through Venmo or other such payment apps to people who are in no way associated with the actual business. These are hard to fight and can be hard to recover from.
We Caught The Scam In Progress
Check out this recent screen grab we were able to get from Facebook. This is a real-life scam in progress happening in the Cessna 172 Pilots Facebook group. The profile is actually a clone, or impersonation, of one of our team members who is active on Facebook in these aviation groups. The scammer used part of Geoff's original post but added his own language and quite a few parts that we did not offer. The phone number is a San Francisco area code. The email is a Gmail account that is not us (more on that below).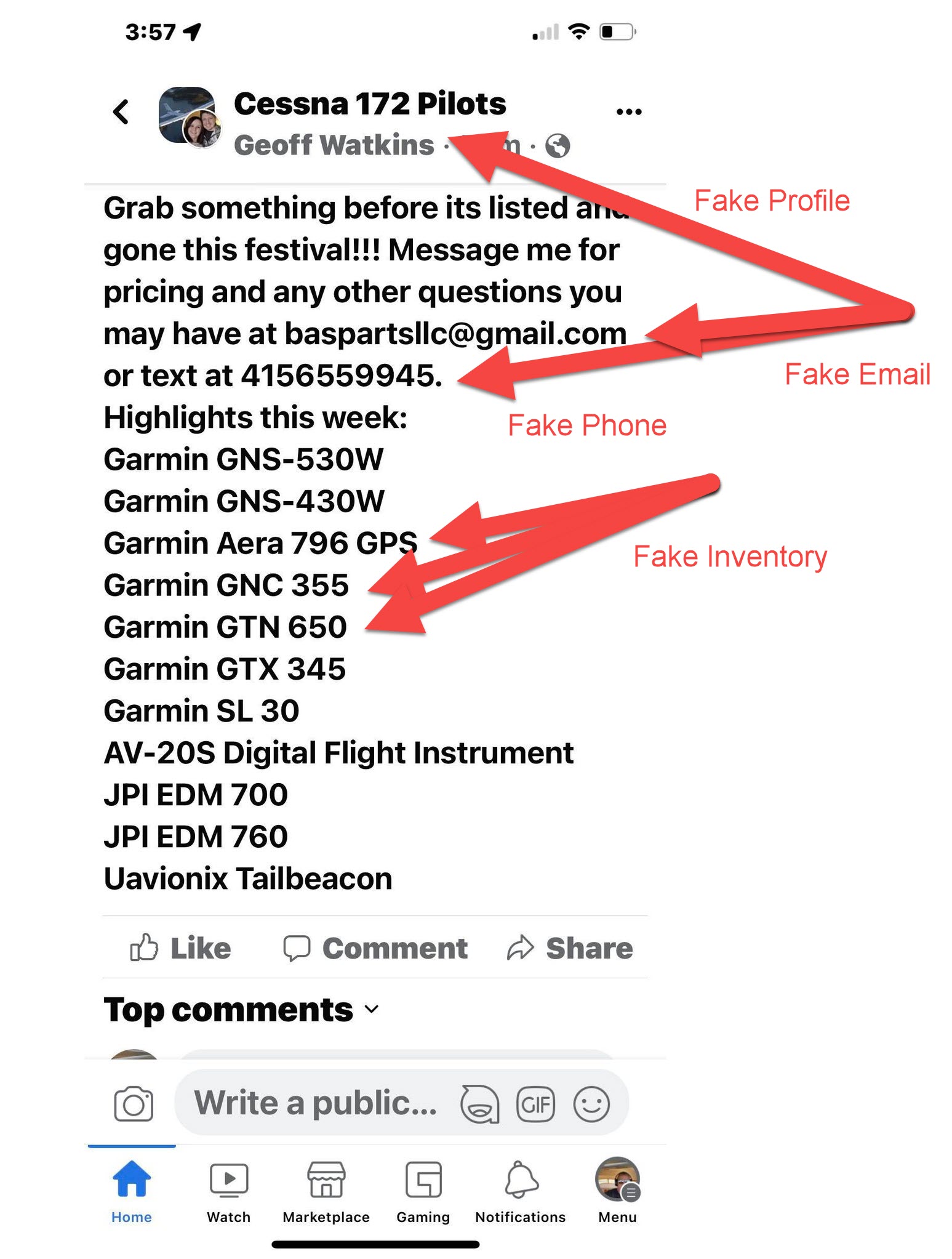 The scary part about this, is that people actually send this guy their money expecting to get parts from BAS. None of the details match anything you find for contacting or communicating with BAS or one of our team members...but if it wasn't profitable they wouldn't be doing it.
Tens Of Thousands Of Dollars
Our team has heard horror stories recently, amounting to many tens of thousands of dollars, lost to scammers posing as reputable airplane parts and supplies companies on Facebook alone. The scammers are good too. They work inside the social media aviation communities, and they are sometimes members of closed groups. They hunt down the right names, and the right details to pose as a legitimate agent of a legitimate business. They speak the aviation language and walk the aviation walk. The include accurate part numbers, model numbers, brand names, etc. They steal images from legitimate websites and pass them off as authentic. But there is almost always a tell-tale sign or two that should immediately send up red flags for the buyer.
How To Spot The Scam
Here at BAS Part Sales, we have a handful of common-sense protections within our processes that any potential customer can clearly identify...
We never, ever, use an email address from a provider such as Gmail, Yahoo, AOL, Hotmail, etc. Instead, 100% of our employees have an email address connected to our website that clearly states @baspartsales.com. If someone claims to be part of our team but wants you to email them at a Gmail address, you should run the other way, quickly.
We don't execute transactions outside of our secure systems. We use tools like Facebook, Messenger, WhatsApp, etc. to communicate with customers daily. However, we don't execute orders through Facebook, Instagram, WhatsApp, etc. Even if you see a part for sale, a legitimate link will take you to one of our secure systems to purchase it. BAS has one of the best e-commerce storefronts in the industry. We do offer a range of payment options in order to satisfy a wide range of client needs. But none of those options includes any Facebook platform or any cash transfer directly through an app on your phone. You can always verify this by independently sourcing our phone number and calling us directly to confirm your purchase before you execute payment.
We will never demand a specific or exclusive payment method. When you complete your BAS order you will utilize one of our e-commerce systems where you can choose the secure, well-established method of your choice, which includes some digital payment options such as Apple Pay, PayPal, and others.
To be clear, we will never request payment directly through Venmo, CashApp, Zelle, WhatsApp, Facebook payments, or other digital payment methods outside of our secure store. No BAS team member will say " Just send it through Venmo."
After the fact, you credit card or bank statement will show details from our business. Details that you can verify. You will also receive a professional receipt or invoice with all the business details you need to verify a legitimate transaction.
No BAS employee will ever, under any circumstances, ask you for a Google code to complete your transaction.
Any part you see on Facebook from BAS is also listed and completely purchasable on our website. You can verify this for yourself from any device with a browser and an internet connection. Yes, you can shop our entire inventory on your phone and buy direct. We encourage you to verify this detail before giving anyone your money.
The phone numbers are usually suspect when dealing with a scammer. Why would a company in, let's say Virginia, be using a phone number with a California area code? This is where one Google search might be enlightening. Google the suspect phone number and decide if a little more diligence is needed.
Think about it like this: Would you go into a hardware store and give your payment directly to the guy who helped you find the right screwdriver? Of course not! You take the tool to the register and pay the cashier, get your receipt, and go about your business. These scammers are asking you to go around the cashier and that should be a big red flag.
They Impersonate Legitimate People
One more thing to be aware of…the scammer typically has a very minimal profile. In the screenshot above, when we go to that fake profile of Geoff, it's very minimal. Not many pictures, duplicate images, few details, a short or non-existent history of interacting with other Facebook users can all be red flags. In this instance quite a few members on our team reported this fake account to Facebook and they took it down. But it took a ridiculous number of attempts to get it removed.
This minimal profile doesn't always mean that someone with a small profile is a scammer. But it should prompt a closer look at the details of the person you're dealing with and the request they make of you, the item, the price and payment method, etc.
The Bottom Line
The bottom line is that the scammer can never, completely, clone the targeted business and details. There is always going to be some piece of the puzzle that they just can't produce. While transactions on platforms like Facebook and Instagram have become wildly popular in the last few years, BAS Part Sales chooses to limit our transaction processing to secure systems that allow us to protect both sides of the deal and provide our customers with ample payment options.
A small amount of due diligence could save you thousands of dollars and hours of pain and suffering.